I'm off planning another trip! I will be heading to Hokkaido, the big Northern island in Japan for 8 days. Once again, I will be traveling by myself but I have faith this will be a better trip than to Korea because
1. I say so
2. My Japanese is decent
3. I'm taking advantage of couchsurfers (despite the highly distressing crash of the site)
4. I'm being less ambitious in terms of ground I want to cover. I plan to stay at most places more than one night.
5. I'm determined to make it awesome.
budget is ~$1000, including airfare (which would have been much cheaper if I'd planned ahead more...)
Above is the silloette of Hokkaido. I plan to travel to the little dots up the west coast.
first I will fly into Sapporo (labeled 1) on the 16th but I don't plan to stay in the city but head directly south to the cluster of dots (2).
This is the Lake Toya/Muroran/Noboribetsu area. It's famous a recent active volcano. I volcanic lake and beautiful mountains. I'll stay with a couchsurfer named Judy from England. (16th and 17th)
Next. head north to cluster of dots lableled (3)
this is the asahikawa/biei/furano area. Famous for idyllic pastoral scenes and "expansive fields of lavender and poppies" also right next Japan's largest national park. I'll either stay at a hostel or rent a tent and camp (bought a cool yet tiny sleeping bag). there are lots of bike rentals and hiking trails. (18th/19th)
after that, head farther north or west (undecided) either see the coast and a little town called Rumoi and stay with a CSer named Alison or stop in a little town called nayora with a CSer named Meg. Natural beauty abounds. at point (4) there is a big marsh with insectivous flowers taht sounds awesome.(20th)
after than head up to the northernmost(?) point of Japan to cap off the experience.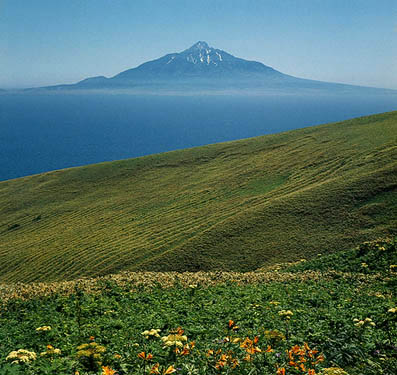 Wakkanai and the islands Rebun and Rishiri.(5) Famous for unspoiled beauty, volcanos and rare alpine flowers taht bloom in July, this will be awesome. I'll probably camp by renting a tent or finding people to share a rented cabin with. There's also a hostel that sounds interesting "Momoiwa-so youth hostel has a hardearned reputation as one of Japan's craziest youth hostels; group hiking by day and camp songs until lights out at 10pm..." )21,22,23/24)
and then I'll fly back from Wakkanai to Tokyo on the 23rd or 24th. Teach on the 25th... it'll be quite a ride but I'm SO SO looking forward to it. these are all just pics I grabbed off the net. I hope to get some good ones myself. I promis to share.